The bi-fuel Probox was able to significantly cut the intermediate margins in order to purchase on its own dedicated route.
The only thing that can be offered at this low price is Yamagin.
The bi-fuel Probox has almost the same specifications as a gasoline-powered car, so a Yamagin Probox with a short mileage is very bargen.
Even if stock runs out, we are receiving offers from around the world every day.
System configuration
The HKS bifuel system can run on either natural gas or gasoline fuel. When the natural gas runs out, it will automatically switch to gasoline, so you can use it without worrying about filling with natural gas. In addition, it is possible to easily convert it to a natural gas vehicle without compromising the performance of existing vehicles, and to comply with Japanese regulations, as well as to achieve drivability comparable to gasoline vehicles, We have set up to support various situations for each model.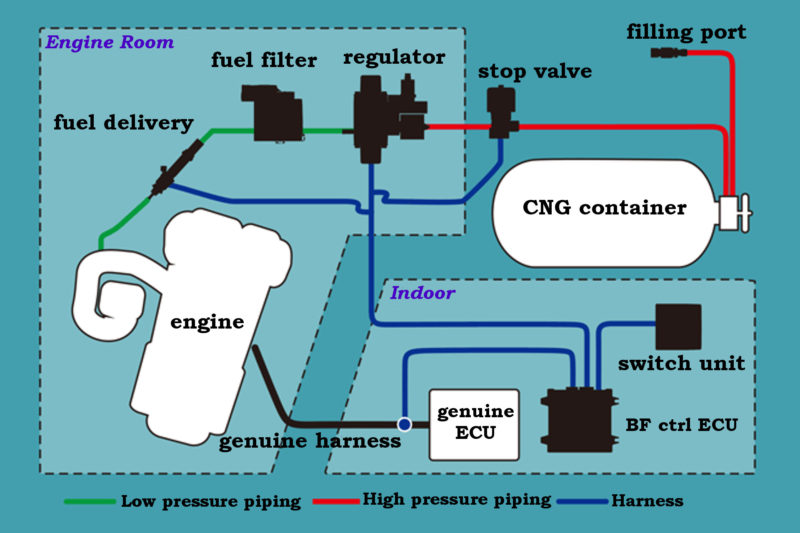 When converting from gasoline vehicles to CNG bifuel vehicles, parts such as gas containers, control computers, regulators, and CNG injectors are required. It can be installed in a layout that takes into account laws and regulations and safety in accordance with each model.
Main parts
BF ctrl ECU: Converts the output of the genuine ECU to the CNG required value. Controls high-precision CNG supply. You can switch automatically or freely while running on natural gas / gasoline.
Regulator: Reduced cylinder pressure up to 200 bar to 2.5 bar. Excellent design and quality control make it possible to supply stable fuel pressure with a two-stage pressure reduction mechanism in any engine operating conditions.
Fuel delivery : Uses a highly accurate gas ejector. High performance in terms of fuel efficiency, emissions and output.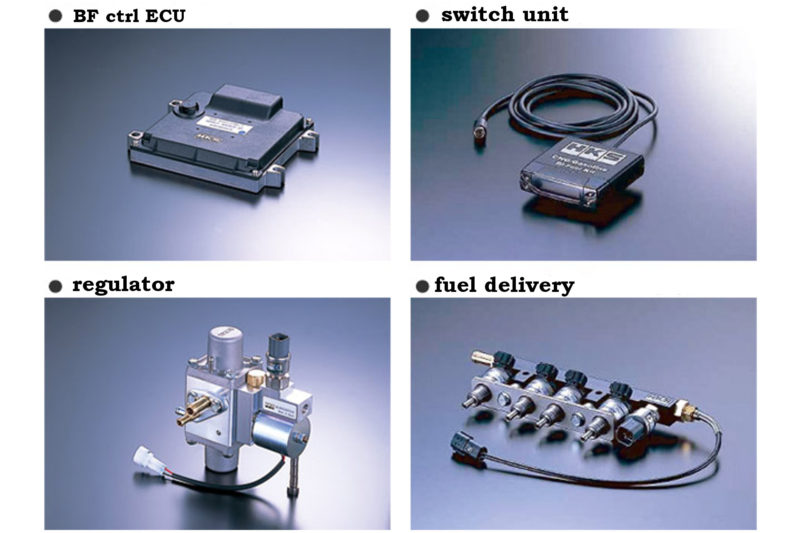 Switch unit
While running on natural gas / gasoline, it can be switched automatically or arbitrarily by operating the switch unit buttons. In addition, not only fuel switching, but also natural gas, remaining amount and instantaneous fuel consumption are displayed. You can always check the driving situation and enable aggressive "eco" driving.
It is installed near the driver's seat of each vehicle, and is designed with consideration for visibility and operability.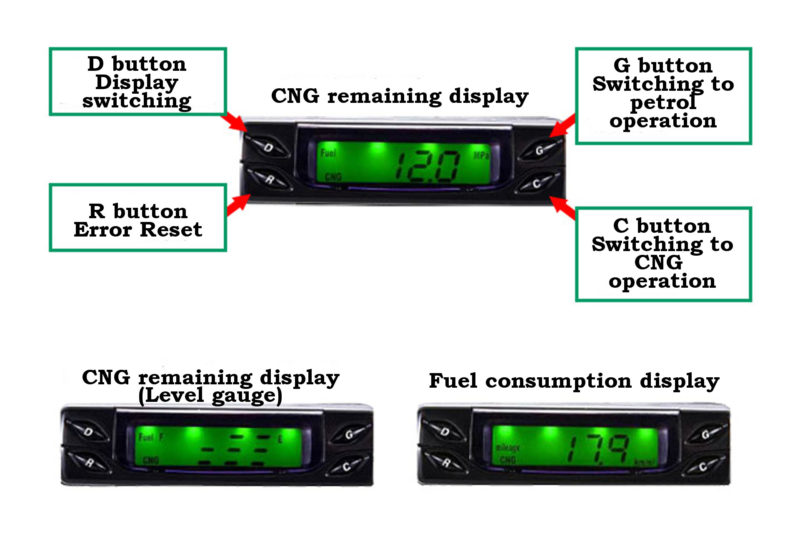 Outline specifications of Toyota Probox
Vehicle model
DBE-NCP51V
Modification manufacturer name
HKS
Maximum output
CNG
68[92]/6,100
Petrol
80[109]/6,000
Maximum torque
CNG
123[12.5]/4,290
Petrol
141[14.4]/4,200
Fuel tank
CNG
47.4(9.5N㎥)
Petrol
50
Low CO2 emissions and effective in preventing global warming
Bi-fuel vehicles are modified vehicles that can run on either natural gas or gasoline. When running on natural gas, CO2 (carbon dioxide) emissions, which cause global warming, can be reduced by 10 to 20% * compared to gasoline vehicles currently running in cities.
Yamagin Probox List